This is the year I'm going hard on my dreams. I guess I've always gone pretty hard on them… the problem was, I never clearly defined my long-term goals.
You know the phrase Your future self will thank you? That phrase used to have no bearing on me whatsoever. This elusive future self wasn't nearly as big of a priority as living-feeling-Melissa right here right now.
The thing is, it's hard to develop a strong affection for your future self if you have no idea who she (or he) is. So, in order to have a relationship with your future self, and actually want to make decisions in her benefit, you have to clearly define her.
If you are familiar with marketing, this can be like finding your audience persona. A good marketer knows that in order to best connect with your audience, you should have one person in mind. It helps you to anticipate what that person would think or feel. So you clearly define that person… from her likes and dislikes, to her job, hobbies, habits, and even her worries.
That's where a vision board comes in.
A vision board helps you to clearly define the things you want to manifest into your future. Keep your vision board on display to be reminded of those things, keeping them present in your mind and developing energetic momentum toward those goals.
When I realized I was finally ready to lay sh*t out for future Melissa, I realized it would be much more fun to bring the collective energy of some other driven people ready to lay out their goals with me. Thus, the Vision Board Party of 2017 was born.
I hung my vision board on the ceiling above my bed so it's the first thing I see when I wake up the morning and last last thing I see when I go to bed. It's actually glorious.
I put a lot of thought into this event (I'm a bit of a perfectionist), so it feels like the perfect thing to share with the world. I hope you all get as much inspiration from your Vision Board Party as I did with mine.
Bring Snacks & Drinks!
Don't let your guests go hungry… or thirsty! Bring coffee and snacks and hey… even mimosas. Sometimes a little buzz can really help get those creative juices flowing.
If you don't want to have to deal with making all that coffee, find a local coffee shop that offers large to-go containers. I got two Joe-to-Go containers from Groundwork Coffee.
If you're feeling extra fancy… which I usually am… you can bring a milk frother to have your guests make their own lattes and cappuccinos. I took the opportunity as an excuse to buy this Breville Milk Frother that I'd been eyeing for awhile; however this little handheld milk frother works really well also… it just won't heat the milk like the Breville.
Morning Event:
Bagels
Coffee
Milk Frother
Milk (almond, coconut or cashew milk for karma points)
Sweeteners (Stevia or monk fruit for a healthier option)
Fruit
Nuts
Mimosas (optional)
Evening Event:
Chips or crackers
Salsa or Hummus
Veggies
Fruit
Nuts
Wine or cocktails (optional)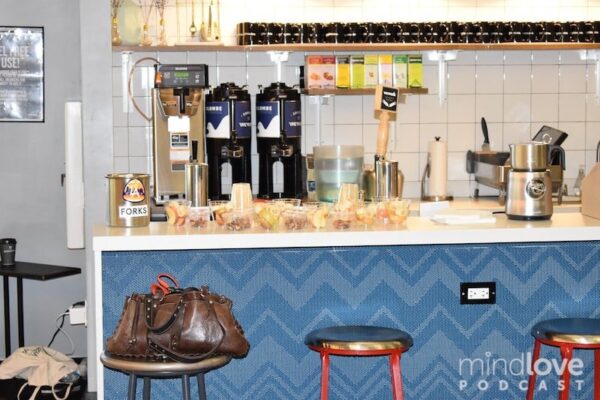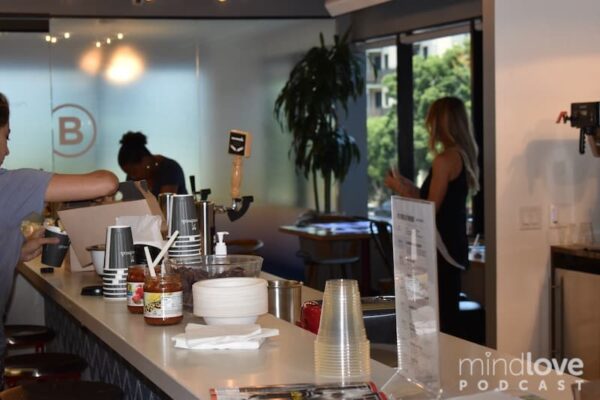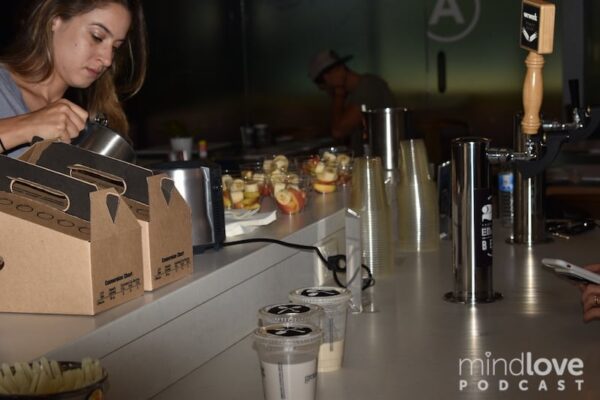 Mix your media
Magazines, glue and cardboard are little flatter than I'd like my dreams to be. Bring stuff to make those vision boards pop so they will be hard to ignore when they're hanging in your guests' homes.
Vision Board Party Supplies
Note: This section contains Amazon affiliate links to support me in creating awesome content for you! 
Basic Vision Board Supplies: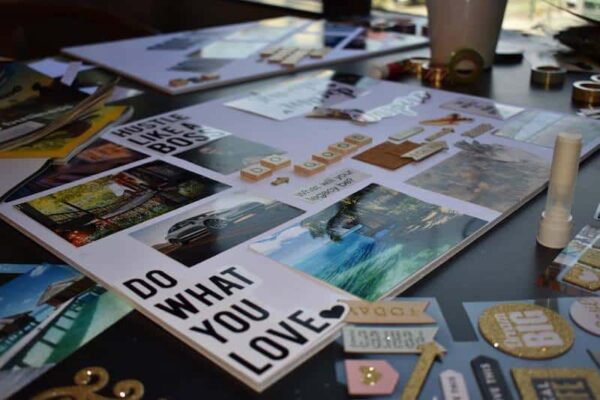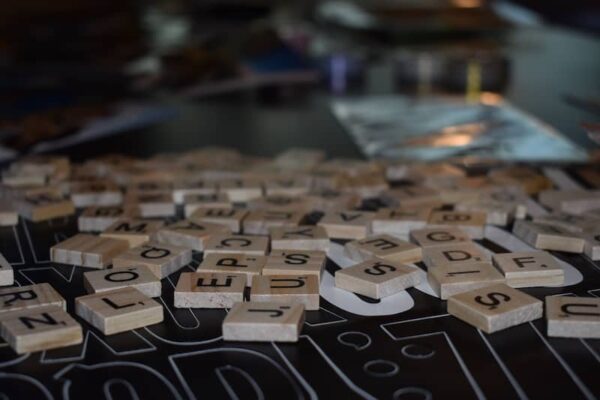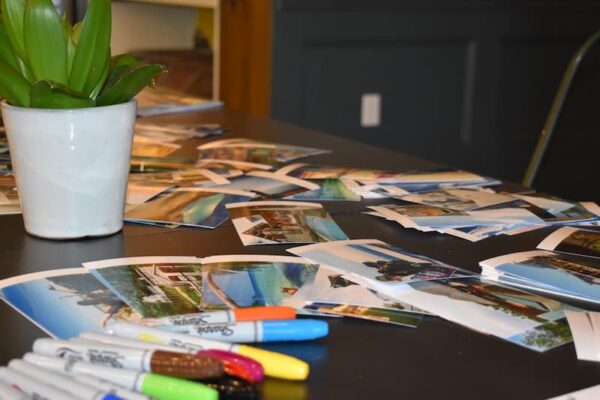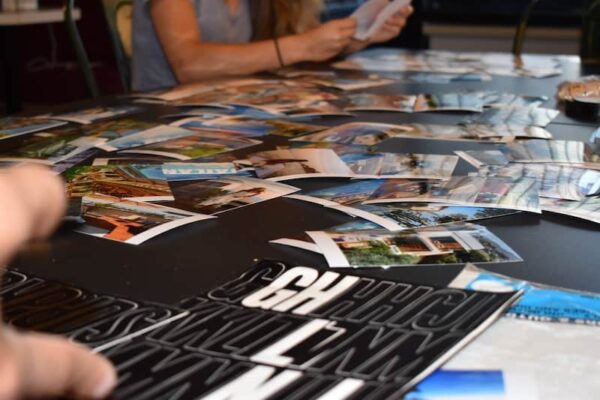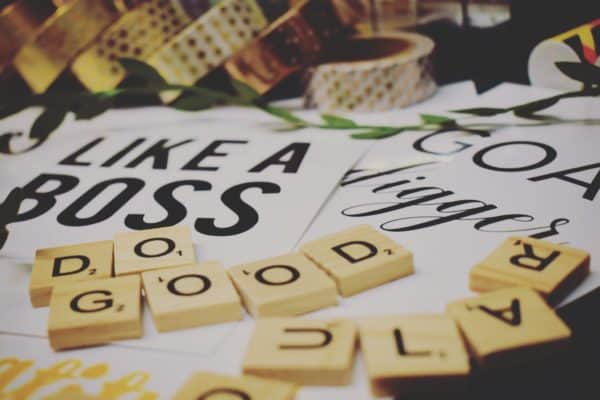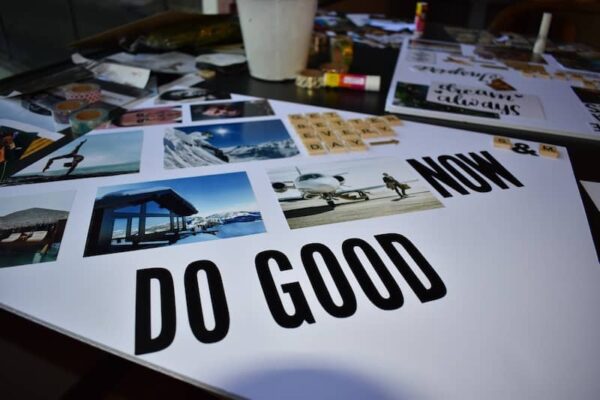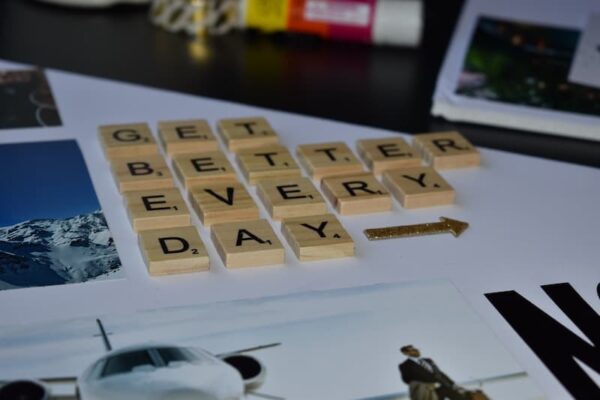 Help people realize their dreams before the event.
Create a simple worksheet that people could print out to give a framework to defining specific areas of their lives. This gives people plenty of time to start envisioning a future they really want and makes them less likely to settle because they're on a time crunch.
Make sure you have visuals that align with your guests' visions.
Create a survey or questionairre (I used Google Forms) to collect responses from the Vision Worksheet so I could make sure I had images of everyone's visions, rather than making people settle for whatever they could find in outdated magazines.
I spent about an hour searching high quality images on Google, saving them to a folder and then uploading them to the Walgreen's website to be printed as photos (way cheaper than regular printing companies).
For example, I made sure I had photos of an exotic treehouse for one guest and a Tesla for myself. You can either give the requested images to guests directly by putting them in envelopes or having them at their place settings, or you can just spread them all out on one table and have guests do the work of spotting their dreams in the midst of the noise… which may be good practice as a metaphor for life.
What would you do with your life if money were no issue?
Where do you dream of living?
If you could go anywhere in the world, where would it be and how would you travel?
Do you want kids? If so, how many?
What does your dream house look like?
Anything else you want to manifest into your life?
List the event where people can find it.
List the event where your friends or fans can find it. I used Facebook Events and Meetup. Since a lot of my guests were personal friends, Facebook had the best results. Two people outside of my network found the event through seeing their friends' RSVPs and searching events nearby.
Choose the platform where your potential guests hang out. If LinkedIn is your thing, post it there!
One great thing about Facebook Events is that it integrates with Eventbrite, which makes collecting payment (if you're charging for the event) really simple.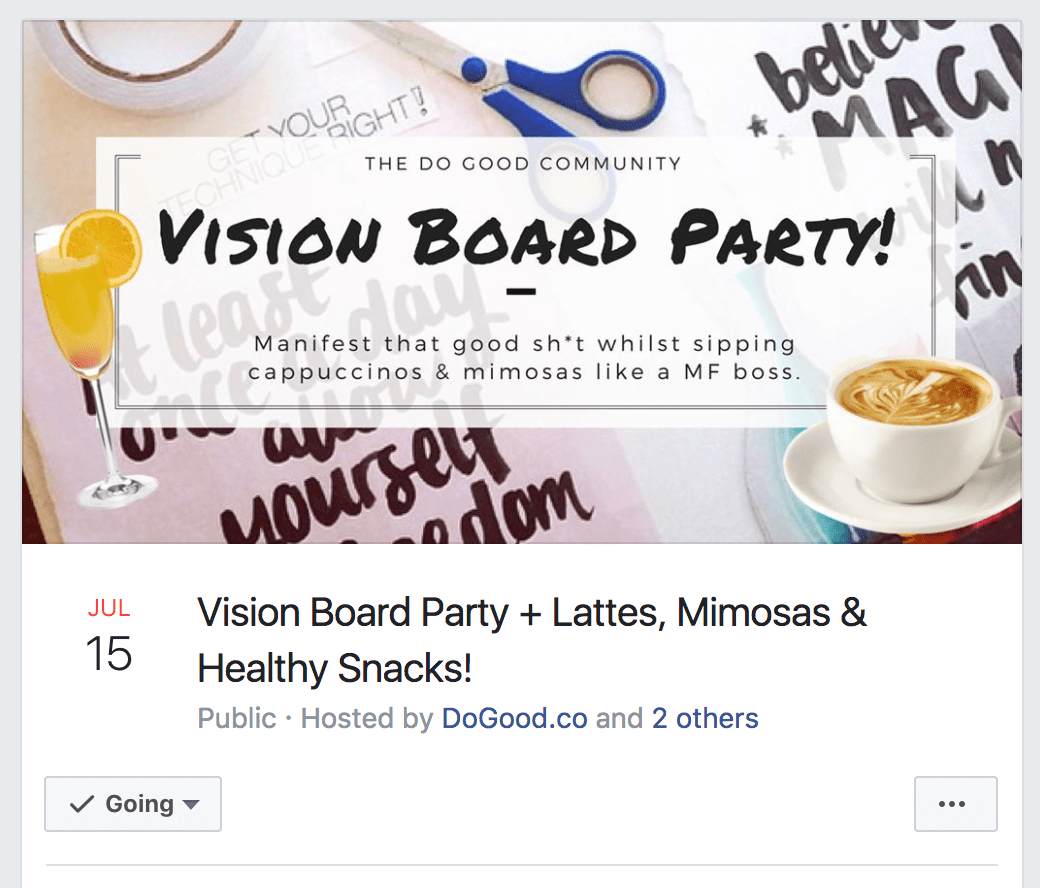 Places to List Your Event:
Facebook Events

Facebook Groups
Facebook Pages
Personal Account

Meetup
Eventbrite
LinkedIn
Pro Tip: Write an Enticing Event Description!
Example Vision Board Event Description:
Let's kick off the very first Do Good Community Meetup to manifest that good sh*t (body, mind, soul, success) into our world!
The first step creating lasting change in your life is to consciously choose what good you want to bring into it.
….drum roll please…
"In order to carry a positive action we must develop here a positive vision." ~ Dalai Lama
Tons of success people (… Jim Carrey, Oprah, Ellen, Arnold, Will Smith, Lindsey Von… basically all the badasses) have credited vision boards for helping them dominate life.
So let's git it.
TICKETS $25 via Eventbrite or $30 at the door.
Ticket price covers:
+ All Vision Board supplies included (and we got the good sh*t so expect a EPIC looking vision board complete with washi tape & motivational quotes!)
+ Groundwork Coffee!!!
+ Organic lattes & cappuccinos! (I will have a milk frother with almond & coconut milk)
+ mimosas
+ light healthy snacks
GET A $5 DISCOUNT just by joining The Do Good Community Facebook Group
Just visit the group for the discount code. Must pay through Eventbrite or at the door.
To start juicing up your mindset, we've create this awesome Vision Board Planner!
Build up your guests' excitement!
Leading up to the event, get people excited by trickling your resources or photos of supplies.
I sent out the worksheet and a link to the survey a few days before the party, giving me time to see what my guests want in their future and to print out the photos.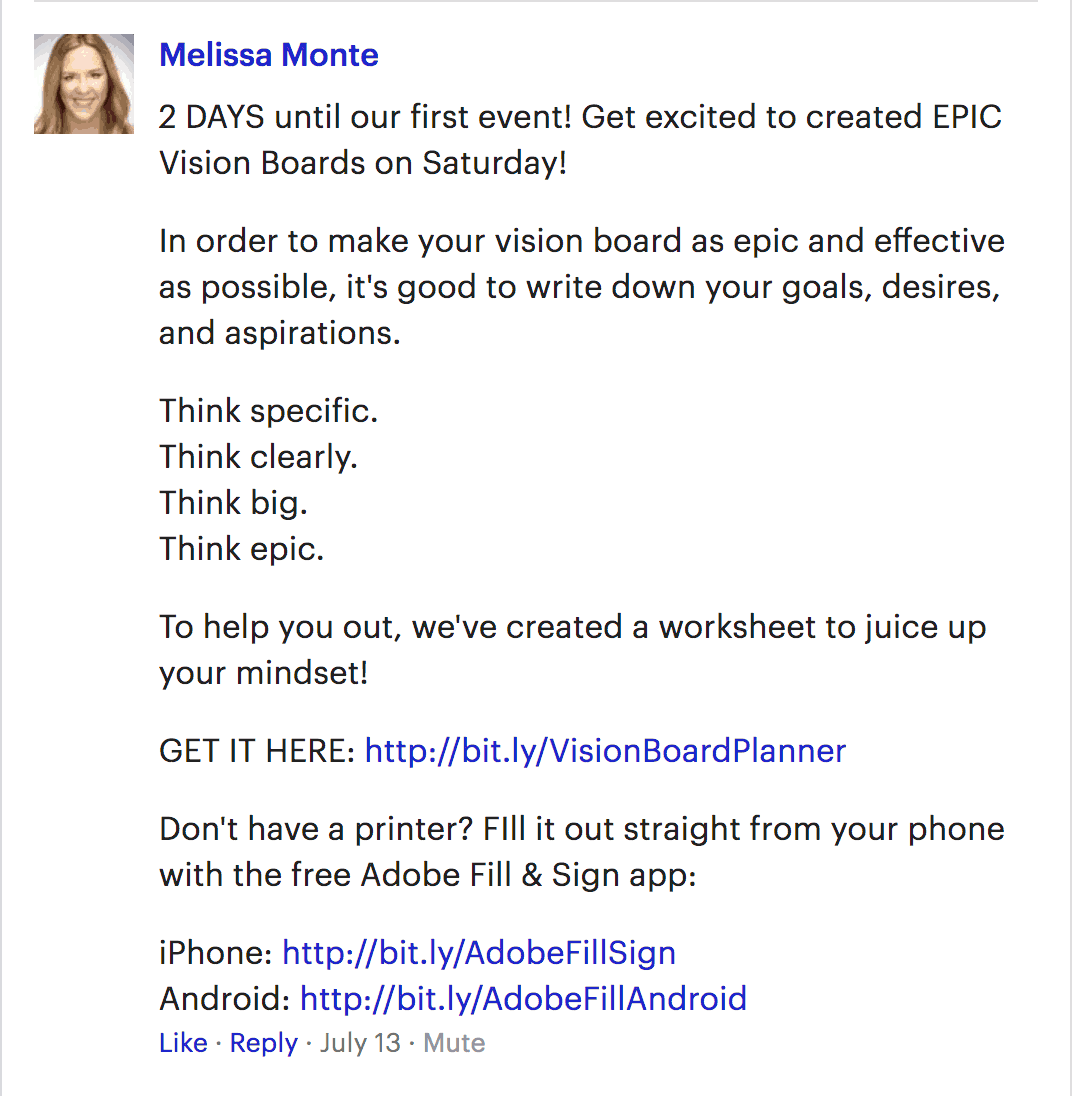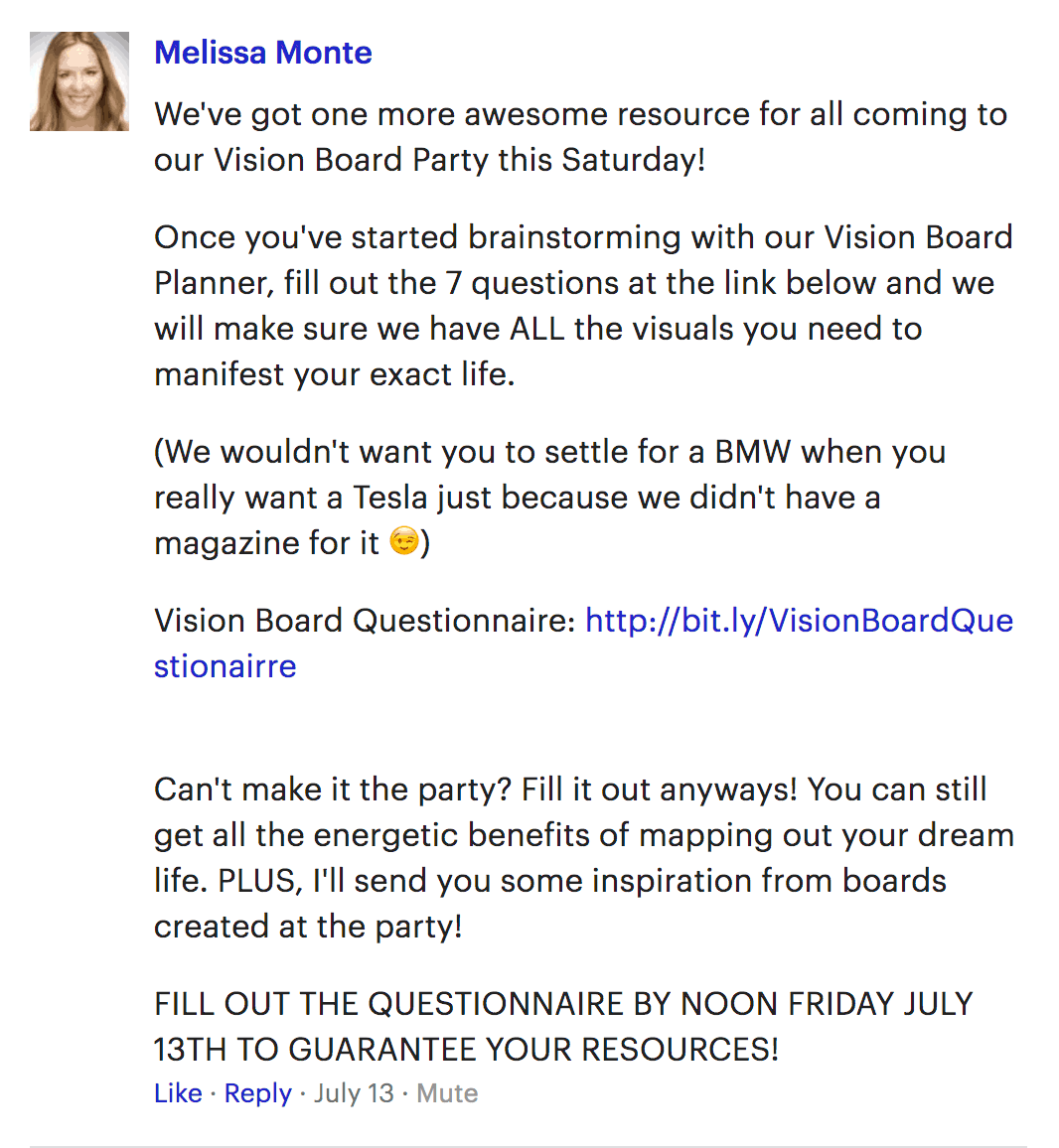 Take great photos of the fun and post them after the event.
Have you ever noticed that even the worst events get stored in your memory of awesome if their are awesome photos to look back on?
The better the photos, the more likely your guests will look back at your event and say "wow, what a great event." Not to mention you just helped them get one step closer to living the life of their dreams.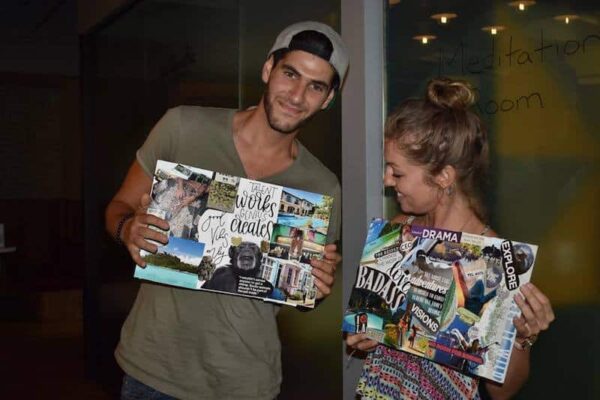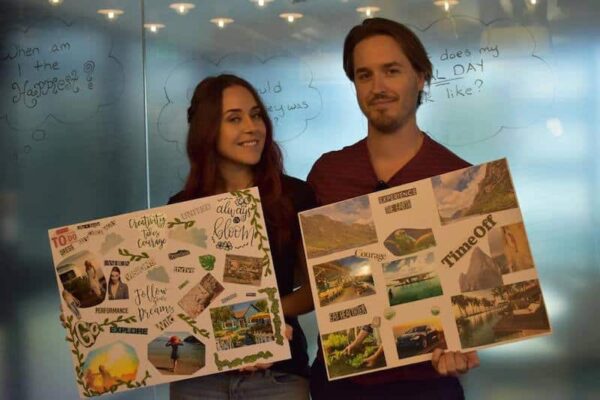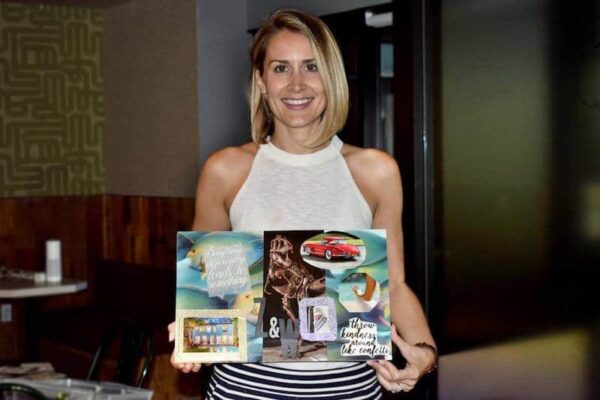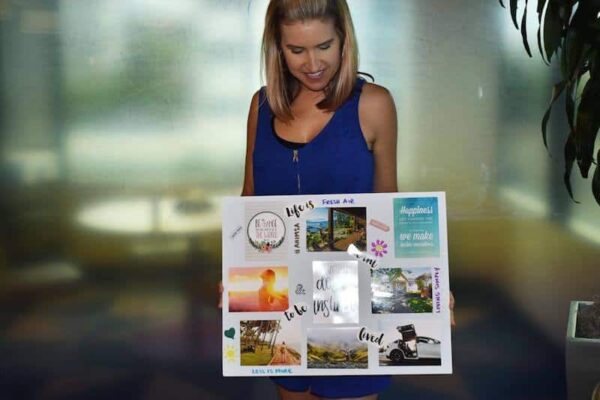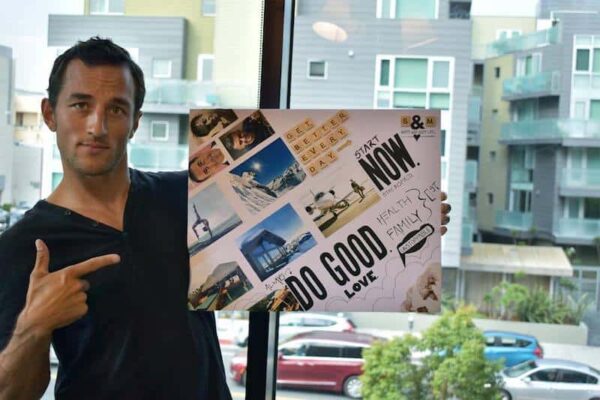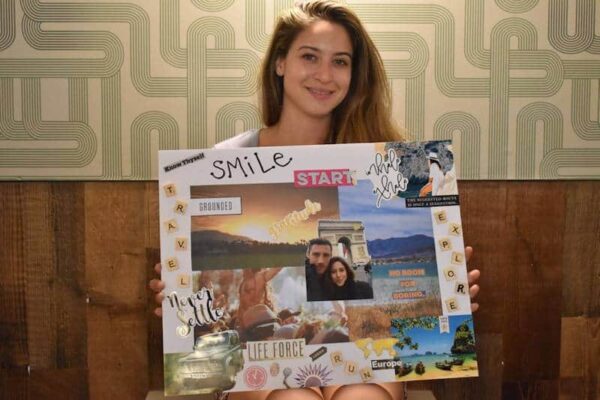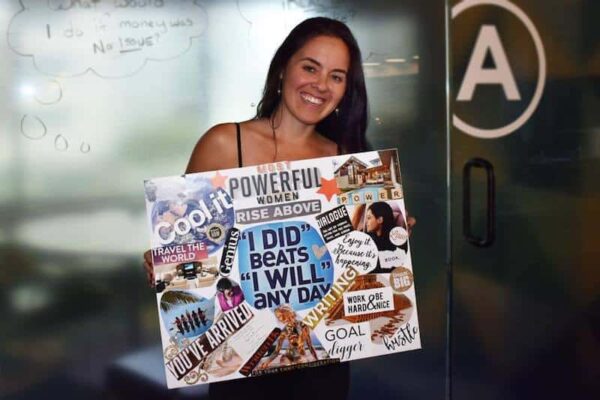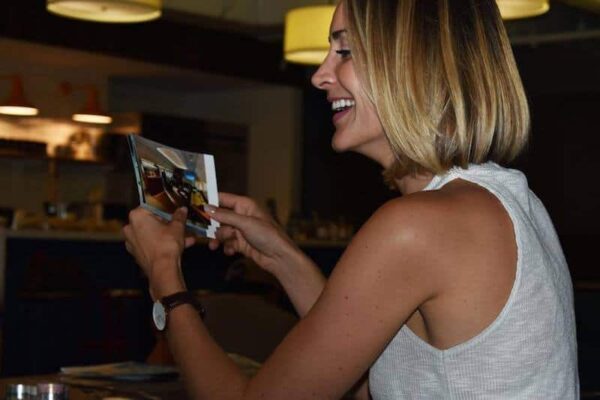 What unique ideas do you have for your vision board party?
Have you held a vision board party or are you planning one? How are planning to make your vision board party different? If you've already held a vision board party, how did it go?
Tell me about it in the comments!